United States Marine – Bryan Cross, A True American Hero!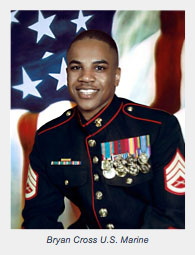 It was one of the greatest pleasures of mine to get to know Bryan Cross, and I am fortunate now to be able to call him my friend. I met Bryan through Bill Vance whom Bryan calls Dad. Bill Vance and I are neighbors and we were all struggling to finish the American Spirit Mustang by Memorial Day 2010. We were at Bill's automotive shop and Bryan really wanted to help on the car and Bill had told me he was a U.S. Marine. So the rest of the day Bryan and a whole team of people worked so hard to get the car done, and that was the start of our friendship.
As our friendship grew I learned of Bryan extensive Military service and now know of his ongoing struggles with PTSD due to his service to our country. It is difficult to express to Bryan that we understand his struggles, but we support him and that we are proud of the sacrifices he made on our behalf. I am sure at times that is little comfort to him, but that is why we built the American Spirit Mustang! I built that car because of my friend Bryan and the fact that he is part of less than 1% of the population of the United States that put on the uniform and risked his life not once, not twice, not three times…but FOUR times was he willing to go overseas to protect our freedoms. Bryan and everyone that serves should demand your respect, gratitude and support, but humility keeps that from happening.
Our society throws around the word HERO very loosely these days, but if you want to see a real American Hero let me introduce you to Bryan Cross this is a REAL AMERICAN HERO! – Scott Lewis
---
Some of Bryan's accomplishments:
› A (SSgt) in the USMC for 12 years, 11 months, and 4 days!
› Served in several Marine units VMA214, VMA211, VMA311, VMA513, VMAT203, and HMM161. The longest one being VMA214.
› Had x4 combat tour deployments – Iraq (x2), Kuwait (x1), and Japan(x1).
Awards
› Marine Corps Good Conduct Medal (4th award)
› Navy and Marine Corps Achievement Medal
› Iraq Campaign Medal (2nd award)
› Humanitarian Service Medal
› Sea Service Deployment Ribbon (4th award)
› Global War on Terrorism Expeditionary Medal (Iraq)
› Global War on Terrorism Service Medal
› Armed Forces Expeditionary Medal (Iraq)
› National Defense Service Medal
› Navy Unit Commendation (3rd award)