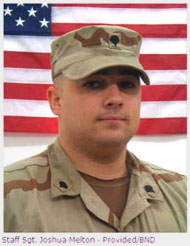 "Monday was not the easiest way to start a week.  Writing this post is not the easiest thing to do.  This morning I caught a news feed that read "Two Illinois National Guardsmen Killed in Afghanistan".  Immediately my heart dropped.
Having safely returned home from Iraq in March 2006, I felt so blessed that I and every soldier from C 2/123rd Field Artillery returned home safely.  A few scares but nothing more than close call stories that you can share with friends every now and then.   After nine years of National Guard service I retired.  It's hard to walk away from something that's been part of your life for so long, but I knew it was time.  Others that deployed with me felt they had more to offer.  More to sacrifice.  One of those soldiers was SSG Joshua Melton.
SSG Melton was only an E-4 Specialist when we were in Baghdad.  He quickly jumped up in rank upon arriving home showing his loyalty and love for his country.  He didn't have to go back.  He could be home with his wife and his one year old daughter. Many of my buddies that were previously deployed didn't have to go.  They volunteered.  They sacrificed.   SSG Melton made the ultimate sacrifice.
26 years of age, SSG Melton's vehicle was hit while on a convoy in Afghanistan.  He wasn't the only killed that day.  I also learned that another was killed and two other soldiers were injured including one that deployed with me.  He was flown to Germany.  At this time I don't know the extent of his injuries.  All I can do is pray." – Jeff Rose