Reagan, Roscoe R. "Rocky," 90, passed away Friday, Jan. 6, 2012.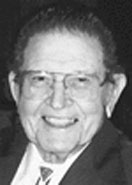 Rocky joined the Army where he served as a 1st lieutenant in the Army Air Corps. He was a flying instructor and a B-29 bomber pilot in World War II.
After serving his country, he attained a bachelor's degree in Aeronautical Engineering from Wichita State University and subsequently worked as a design engineer for Douglas Aircraft in Tulsa, Oklahoma.